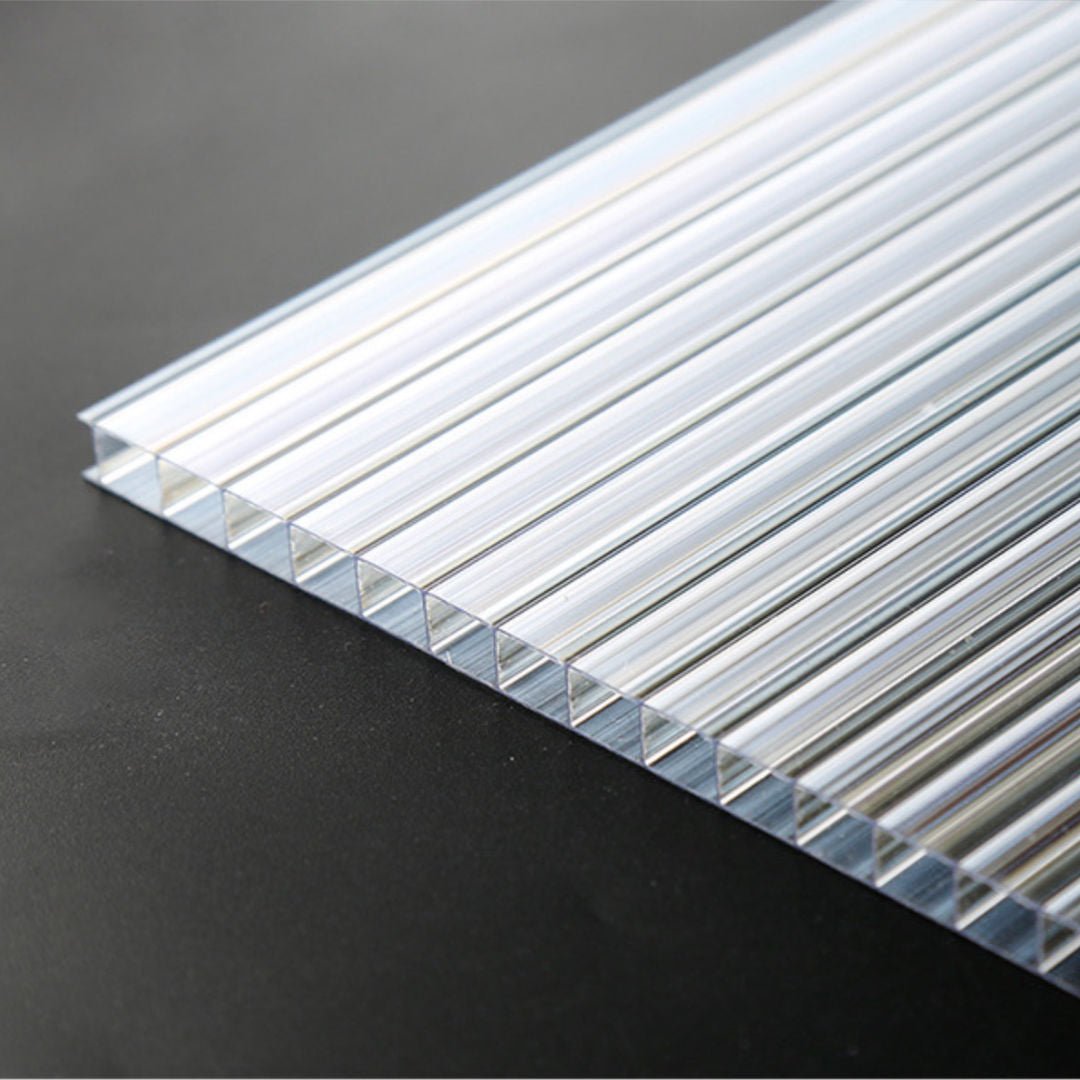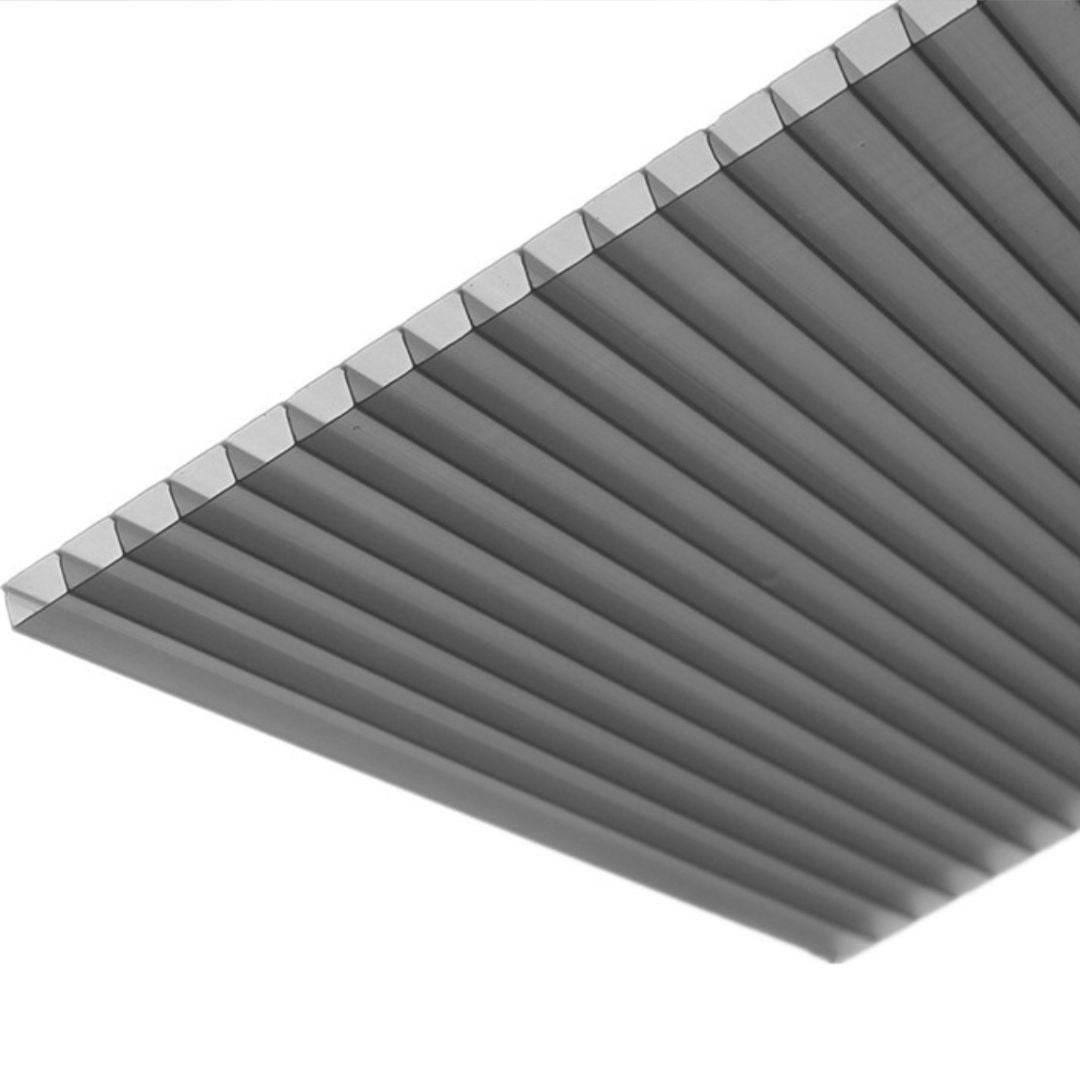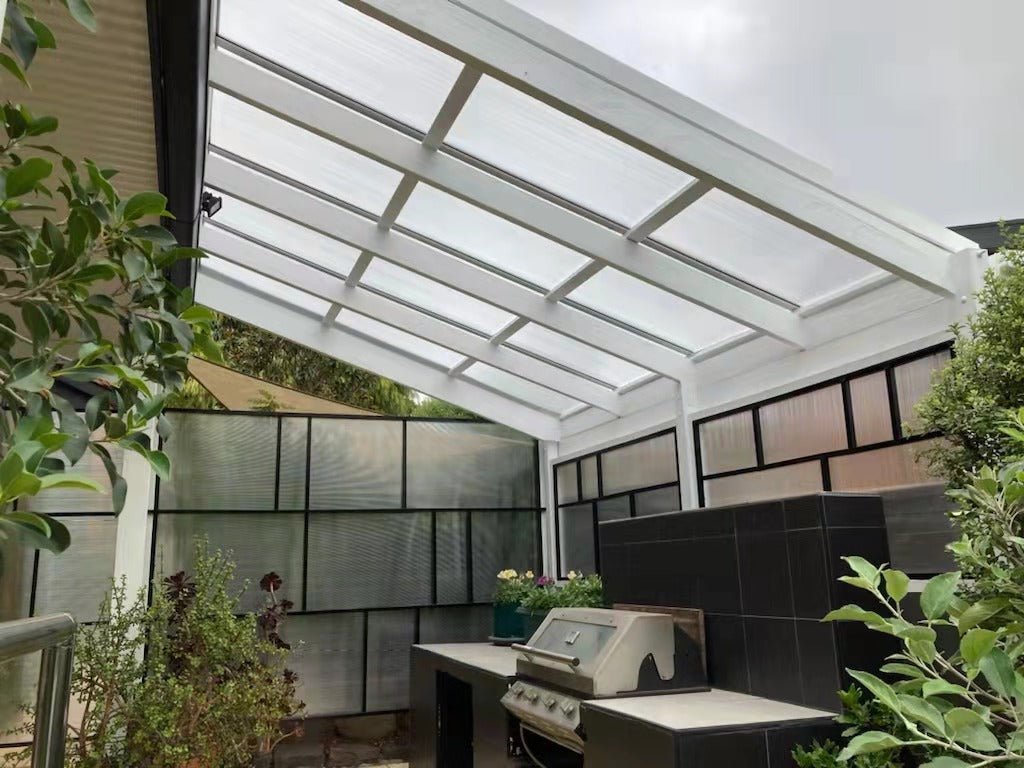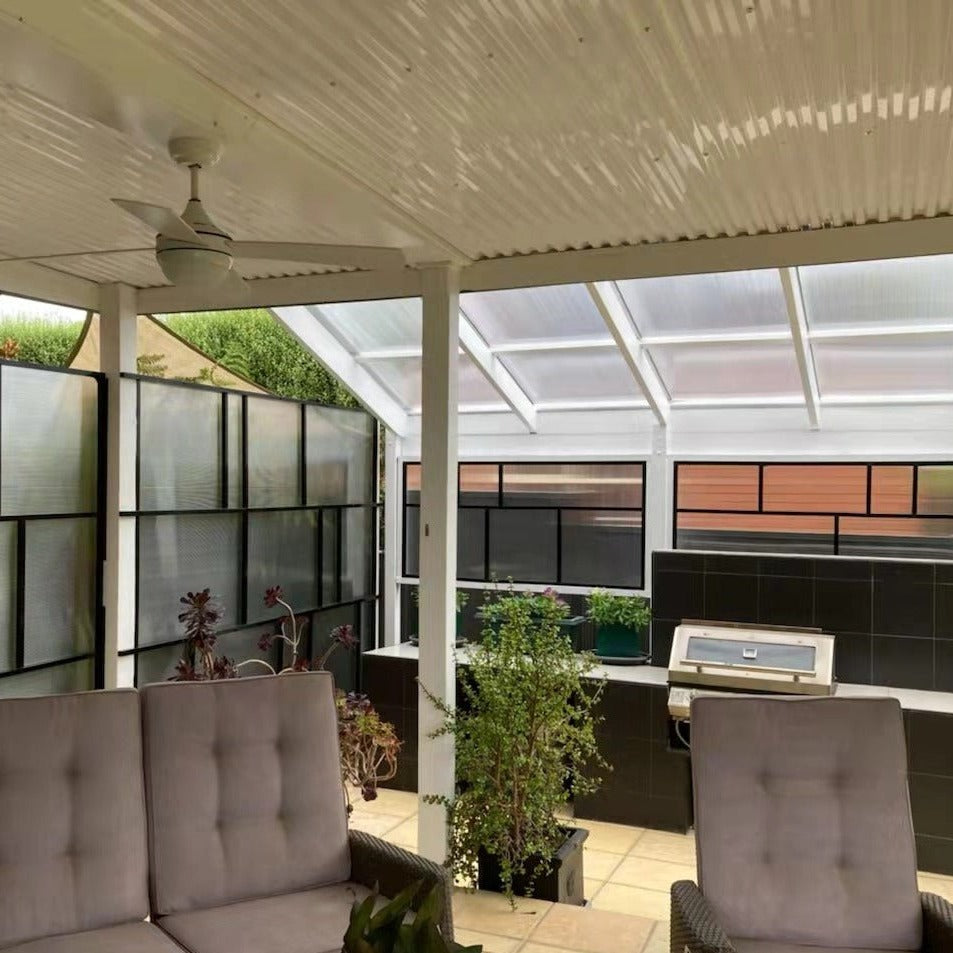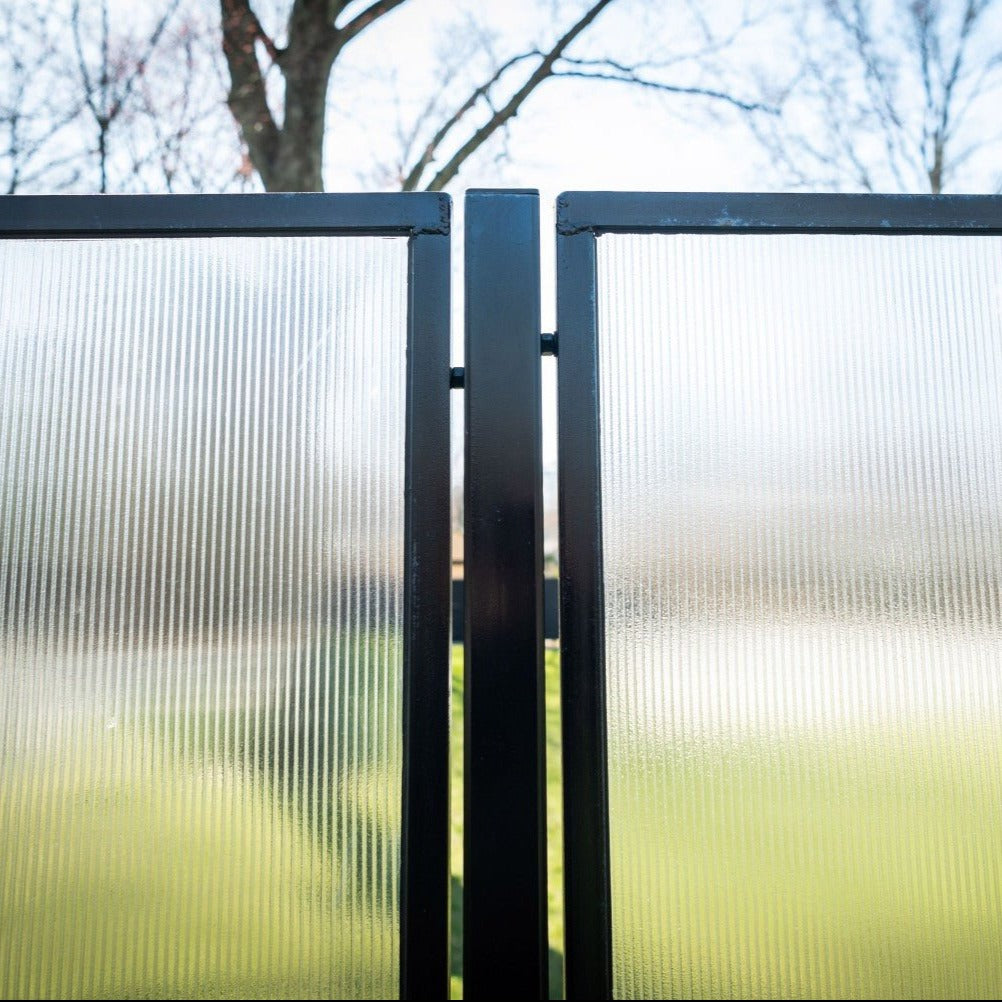 Twin Wall Polycarbonate Sheet
Pickup available at Unit 4, 8 Enterprise Drive,
Usually ready in 1 hour
Twin Wall Polycarbonate Sheet
1050 x 2440 / 6 / Clear
Unit 4, 8 Enterprise Drive,
Pickup available, usually ready in 1 hour
8 Enterprise Drive
Unit 4
Rowville VIC 3178
Australia
0452 396 680
Twin wall polycarbonate sheets
Twin wall polycarbonate sheets, also known as corflute sheets, are a type of double-layered polycarbonate. They offer several advantages over solid polycarbonate panels, being lighter in weight, more rigid, and more cost-effective. Polycarbonate twinwall are widely used in applications such as greenhouse panels, pergola roofing, pergola enclosures, pool enclosures, and more. These panels permit natural light transmission and provide effective heat insulation.
Excelite twin wall polycarbonate sheetings are versatile and suitable for a variety of applications, such as pergola roofing, pergola side enclosure, greenhouse. Two layers structure of polycarbonate, creating a tougher it's rigid that can be used for applications like barriers, partitions, or roofing material. Available in a range of colors and sizes, our polycarbonate twin wall sheets are not only practical and durable but also affordable, making them an excellent option for numerous applications. As your reliable supplier, we will help you choose from various sizes and thicknesses to match your insulation and project requirements.
Features of Twinwall polycarbonate
Lightweight: Twinwall polycarbonate roofing is much lighter than solid flat polycarbonate, 10mm twin wall polycarbonate sheet has a weight of 1.7kg/sqm, whereas a 10mm flat polycarbonate sheet weighs 12kg/sqm, and a 10mm glass sheet has a weight of 24.93kg/sqm.
Rigidity: The rigidity of Polycarbonate twinwall is attributed to their unique structure, which consists of two layers of polycarbonate separated by air channels or walls.
Thermal Insulation: The air channels between the layers of polycarbonate act as insulation, providing good thermal properties. This makes twin-wall polycarbonate an excellent choice for applications like greenhouses, where temperature control is crucial.
Light Transmission: Twin wall polycarbonate sheets allow light to pass through while diffusing it, which can help protect plants from excessive sunlight. The diffused light also reduces the risk of hot spots which can burn the plants.
Affordability: Twin wall polycarbonate is more affordable than flat polycarbonate, making it an attractive option for the projects when a balance of cost and performance is desired.
Common applications for twin wall polycarbonate sheets include:
Greenhouses: The material's combination of light transmission and insulation properties makes it ideal for creating controlled environments for plant growth.
Pergola Roofing: Twin wall polycarbonate can be used to cover pergolas, providing shade and protection from the elements while allowing natural light to filter through.
Pergola Enclosure: When used for pergola enclosures, it offers protection from wind, rain, and insects while still providing visibility and natural light.
Pool Enclosures: Twin wall polycarbonate is often used to create enclosures around swimming pools, offering protection from weather and debris without sacrificing natural light.
Skylights: It can be used for skylights in commercial and residential buildings, bringing natural light into interior spaces.
Sound Barriers: In some cases, twin wall polycarbonate sheets are used as sound barriers along highways and other noisy areas.
Keep in mind that while twin wall polycarbonate offers many advantages, it may not be suitable for every application. Solid polycarbonate sheets are still preferred when maximum transparency or higher impact resistance is required. The choice between these materials should be based on the specific needs of your project.
Twin wall vs solid polycarbonate
Twin wall polycarbonate and solid polycarbonate sheets are two different types of polycarbonate materials with distinct characteristics, and they are suitable for various applications. Here's a comparison between the two:
1, Structure: Twin wall polycarbonate consists of two layers of polycarbonate separated by air channels, creating a multi-wall design. This design provides thermo insulation properties. Solid throughout without any air channels. They are a single-layer material.
2, Weight: Twin wall polycarbonate is lighter in weight compared to flat polycarbonate, making it easier to handle and install. Flat polycarbonate weight is about 5-7 times heavier.
3, Rigidity: As rigid as solid polycarbonate, twin wall polycarbonate is still relatively rigid, offering good strength and stability. Twin wall sheets exhibit minimal sagging over time, even under their own weight or when subjected to external loads. It can go bigger span than flat polycarbonate.
4, Insulation: Twin wall polycarbonate provides excellent thermal insulation due to the air channels, making it suitable for applications where temperature control is important, such as greenhouses.
5, Cost friendly: Double layer polycarbonate sheet use much less material per sqm, so it's more cost-effective.
6, Light transmission:  Clear flat polycarbonate panels provide a glass-like appearance and can achieve 92% light transmission (LT), making it ideal for applications where clear vision is essential, such as in windows, skylights, or safety barriers.
Multi-wall polycarbonate panels offer a translucent appearance with a light transmission of around 85%, making them suitable for applications that prefer to diffused light.
7, UV Resistance: Both roofing materials have good UV rating, which makes them suitable for outdoor applications.
8, Strength: When comparing a 10mm corflute sheet with compact polycarbonate, it's clear that solid polycarbonate offers greater strength and durability. Solid flat polycarbonate is a better choice heavy-duty applications like pergola roofing, especially in Melbourne harsh weather.
Twin wall roofing, including corflute, often has a thinner top layer than solid polycarbonate. Over time and with exposure to the sun, this thinner top layer can be damaged by hails. Therefore, for a long-lasting and robust pergola roofing solution, solid polycarbonate is the preferred option.
The choice between twin wall and solid polycarbonate depends on the specific needs of your project. Talk to an expert today to discuss your specific application needs.
Features and Benefits:
Twin wall polycarbonate sheets come with a range of features that make them stand out from other materials:
Double-Layer Insulation: The twin wall structure provides superior thermal insulation compared to single-layer alternatives.
High Impact Resistance: With approximately 200 times the strength of glass, our twin wall polycarbonate sheets can withstand significant force without breaking.
UV Protection: Our polycarbonate sheets maintain clarity while offering protection against harmful UV rays.
Lightweight: Twin wall polycarbonate material is lighter than glass or thicker sheet materials making it easier to handle and install.
Easy Customization: Polycarbonate sheet material can be easily cut or cold-formed on site without cracking or breaking.
Applications
Twin wall polycarbonate sheets are suitable for a wide range of applications across various industries due to their superior insulation, durability, and ease of use:
Greenhouses
Energy-Efficient Buildings
Sheds & Carports
Skylights & Roofing Panels
Why Choose Twin Wall Polycarbonate Sheets?
Compared to alternative materials like glass or single-layer plastics, twin wall polycarbonate offers numerous advantages due to its unique double-layer structure:
Enhanced Thermal Insulation: Twin wall polycarbonate provides up to 60% better insulation than single-layer alternatives (Source), reducing energy costs in temperature-controlled environments like greenhouses or energy-efficient buildings.
Increased Durability & Strength: With an impact resistance up to 200 times greater than glass (Source), these sheets provide unmatched durability for various applications while maintaining excellent optical clarity.
UV Protection: The built-in UV protective layer ensures that the sheets maintain their clarity and resist discoloration or degradation over time.
Ease of Installation: The lightweight nature of twin wall polycarbonate makes it easier to handle and install compared to heavier materials like glass or thicker sheet materials.
How the Multi-wall Polycarbonate Locking System Works:
The ExcelitePlas Multi-wall Polycarbonate Locking System comprises multi-wall polycarbonate panels with click-fit edges and a versatile set of leak-proof fastening accessories. The interlocking system incorporates several components that ensure a sturdy and watertight finish.
Multi-wall Polycarbonate Panels: These panels feature an interlocking design, available in a range of thicknesses. The panels join together with polycarbonate or aluminum joiners.
Joiners: Polycarbonate or aluminum joiners provide a seamless connection between panels and can be used to increase the spanning distances to suit the structure.
T-Fasteners: These fasteners secure the entire system to the structure, clamping the panels in place without any point fastener penetration through the panels.
End Caps or F-Sections: These components can be used to seal the upper and lower ends of the panels, ensuring a watertight connection.
F-Sections or Barge Clips: These elements finish off the side edges of the installation, creating a fully framed and sealed solution.
With its sleek appearance and ease of installation, the ExcelitePlas Multi-wall Polycarbonate Locking System is ideal for DIY roofing projects and professional applications alike. By using the appropriate components, the system can accommodate a wide range of structural elements such as thermally insulated curtain walls, arched leak-proof canopy roof systems, designed skylights, and more.
Technical Data:
Thermal Insulation: Depending on the type of sheet, the K-value ranges from 1.54 to 3.56 W/m²K.
Bending Radius: Minimum bending radius starts from 1750mm for the thinnest sheet up to 5250mm for the thickest.
Soundproof Index: Ranges from 14 dB for twin-wall up to 19 dB for honeycomb and X-structure sheets.
Load Capability: Depending on thickness and structure, the sheets can handle loads from 2.1 kN/m² to 4.7 kN/m² for short-term loads and 0.6 kN/m² to 2.1 kN/m² for continuous loads.
Physical Properties:
Light Transmission: Varies between 25%-82% based on the type of sheet.
Thermal Conductivity: Ranges from 2.3-3.9 W/m·K.
Coefficient of Linear Expansion: 0.065 mm/m°C.
Specific Heat: Between 1.17-1.3 J/g·K.
Flame Resistance: Resistant to fire and does not promote flame spread.
High Clarity: Ensures clear visibility and maximum light transmission.
Lightweight: Easier to handle and install compared to traditional materials.
Types of Sheets:
Twin-wall Polycarbonate Sheet: A dual-layered sheet that offers moderate insulation and strength, suitable for basic applications.
Triple-wall Polycarbonate Sheet: Features three layers for improved insulation and rigidity, ideal for medium-duty applications.
Four-wall Polycarbonate Sheet: Designed with four layers, providing superior insulation and strength for demanding scenarios.
Honeycomb Polycarbonate Sheet: Has a unique honeycomb structure that offers excellent insulation and light diffusion.
X-structure Polycarbonate Sheet: Features a cross-structured design, ensuring maximum rigidity and insulation for high-end applications.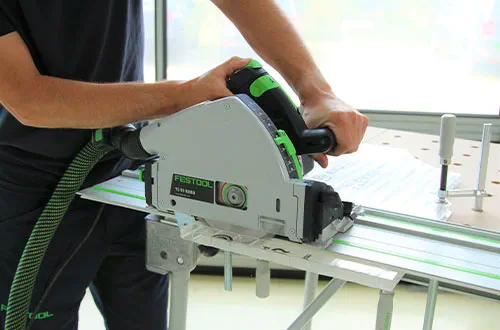 Cut To Size
Whether you're working on a small DIY project or a commercial project, we're proud to offer cut-to-size sheets here in the heart of Melbourne.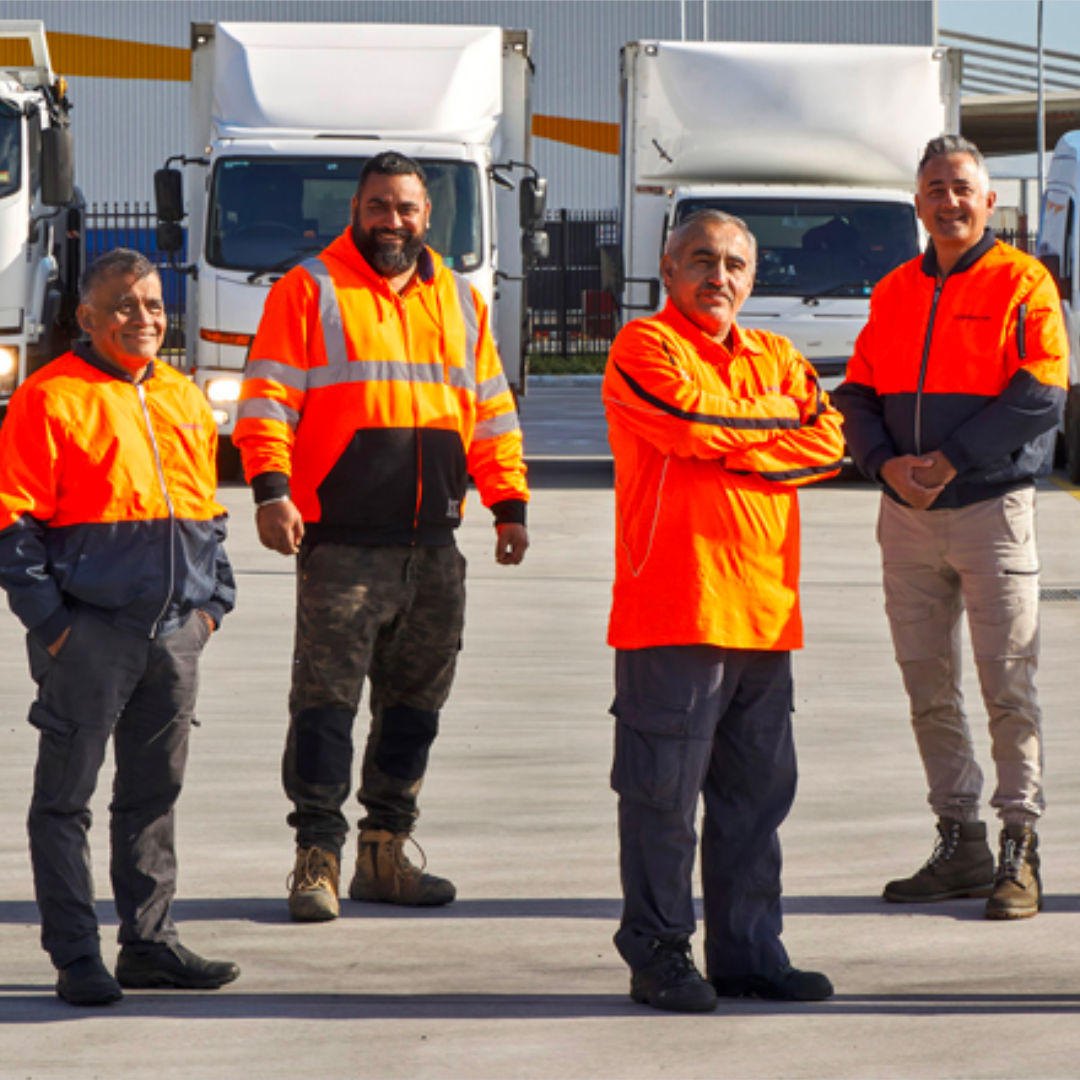 Same Day Delivery
For orders placed before 2pm, we're proud to offer same day delivery within Melbourne Metro.
Frequently Asked Questions
Shipping & Returns
We offer same-day shipping for Melbourne metro areas and 1-4 business days delivery for everywhere else in Australia.
The polycarbonate sheets are carefully packaged to ensure they arrive in perfect condition. Sheets are protected with wrapping or other cushioning materials to minimise any damage during transit.
The polycarbonate sheets are carefully packaged to ensure they arrive in perfect condition. Sheets are protected with wrapping or other cushioning materials to minimise any damage during transit.
General
Polycarbonate is extremely strong and nearly unbreakable, making it suitable for applications like police shields, awnings, sunroom roofing, and greenhouses. These panels are resistant to various weather conditions and maintain their appearance for many years.
Polycarbonate sheets can be easily cut using a circular saw or a jigsaw. Circular saws are best for cutting larger lengths, while jigsaws require careful handling to ensure proper cuts.
Although polycarbonate sheets may change colour over time due to sun exposure, Excelite's UV-coated polycarbonate sheets maintain their colour longer.
Polycarbonate sheets require minimal maintenance. Gentle cleaning with warm soapy water and a soft cloth is typically sufficient. Avoid abrasive cleaners, brushes, or pressure washing, as these may damage the UV-resistant coating or scratch the sheets
Roofing
The best sheeting for a roof depends on the specific requirements, with multi-wall, solid, and corrugated polycarbonate sheets each offering unique benefits.
Although polycarbonate sheets are tough and durable, they should not be walked on. They can withstand many impacts, but might dent or scratch under the weight of a person. Additionally, their surfaces are slippery due to the UV-resistant film, posing a risk of slipping and injury.
Corrugated and twin wall polycarbonate sheets are typically the least expensive varieties. Despite the lower price, these sheets can endure Australia's harsh weather conditions, but selecting the wrong type may lead to more expenses in the long term.
Pergolas & Greenhouses
Excelite's popular glass-look polycarbonate flat roofing is an excellent choice for a pergola roof. It is easy to install, low-maintenance, and watertight, making it a great alternative to glass.
or a pergola enclosure with a glass-like appearance, use a 4-6mm thick solid polycarbonate sheet. Alternatively, use twin-wall polycarbonate panels for a more affordable, yet less transparent option.
Twin wall polycarbonate is ideal for greenhouse construction due to its insulating properties and minimal framing requirements. Excelite Softlite polycarbonate sheets are another excellent option for greenhouse materials, especially for tunnel greenhouses.