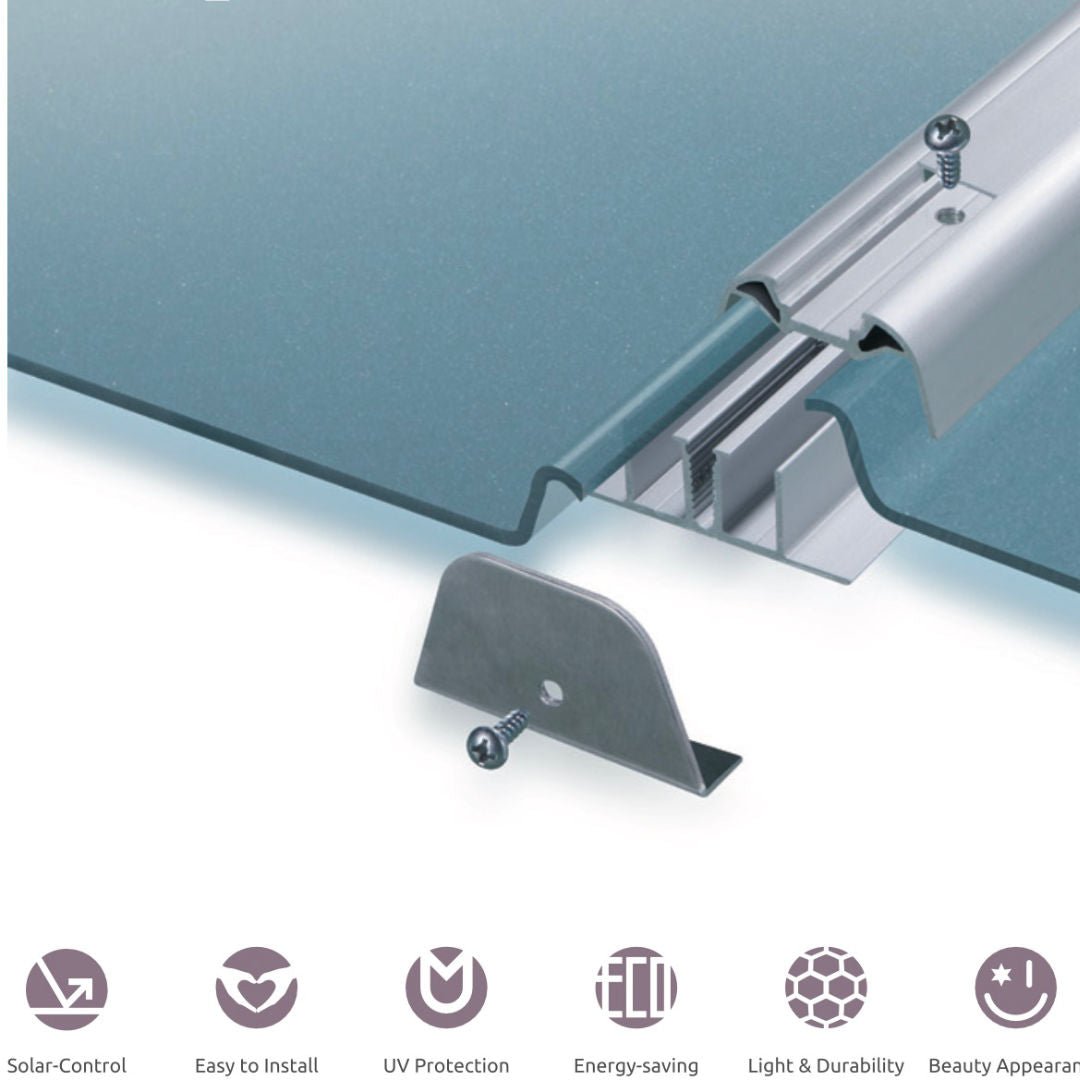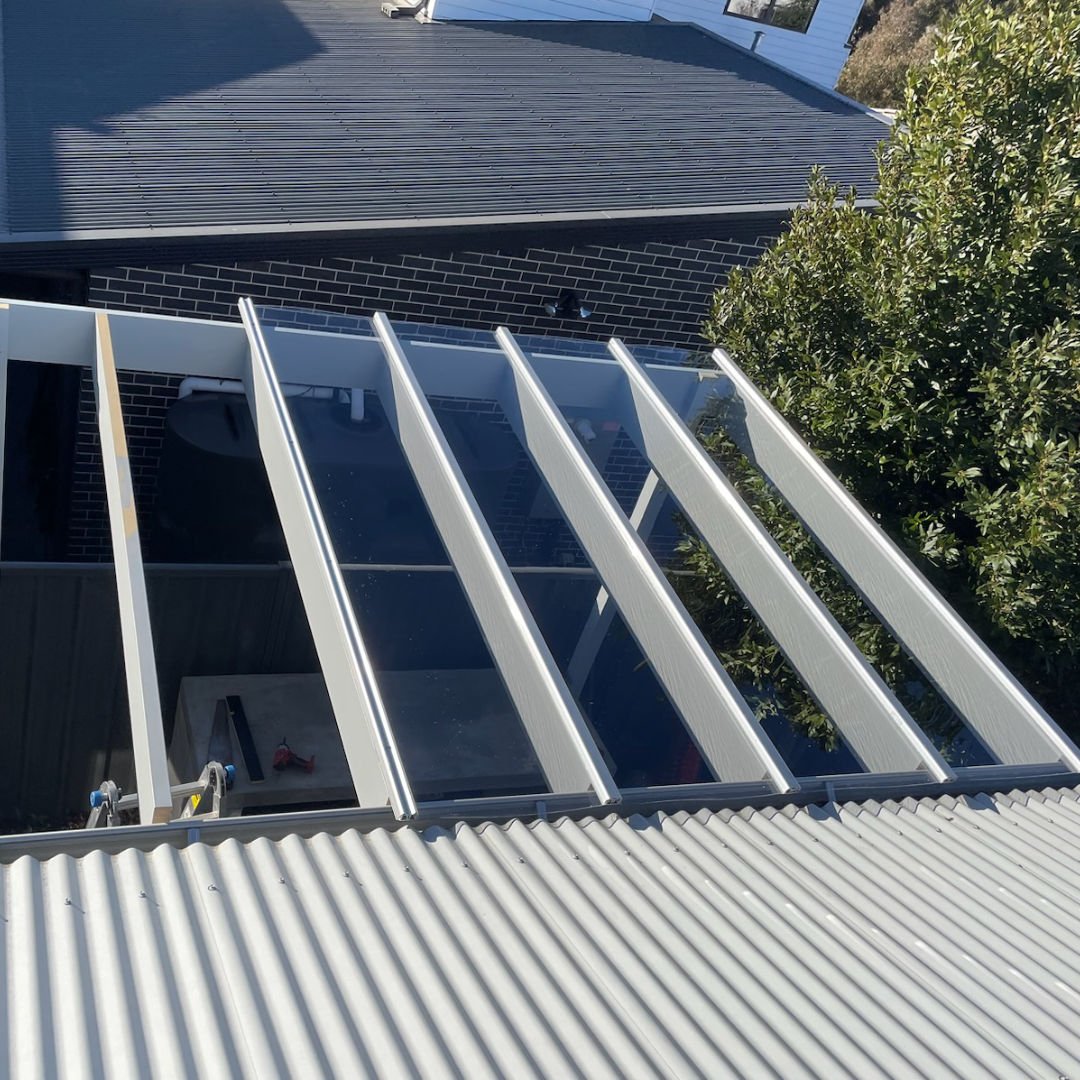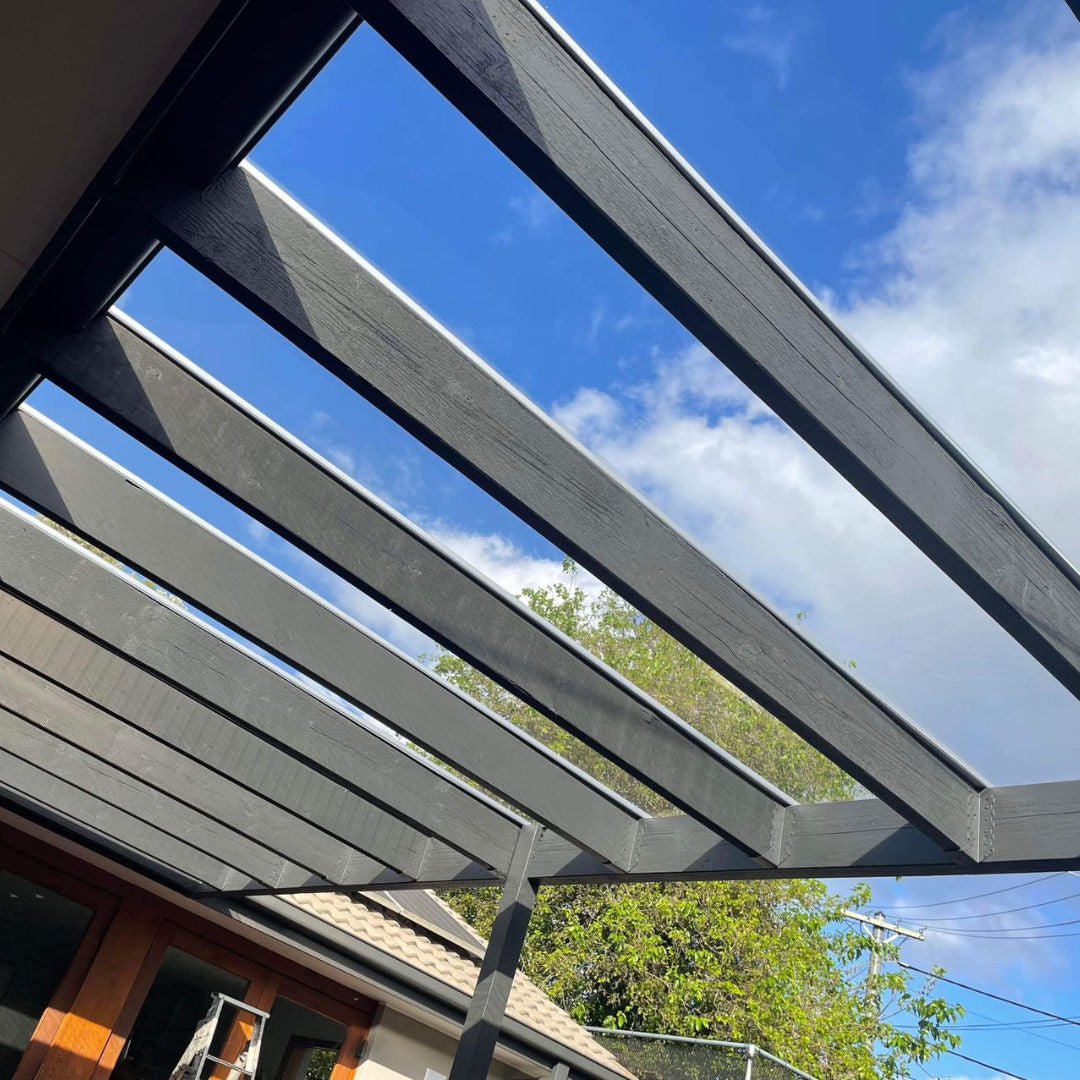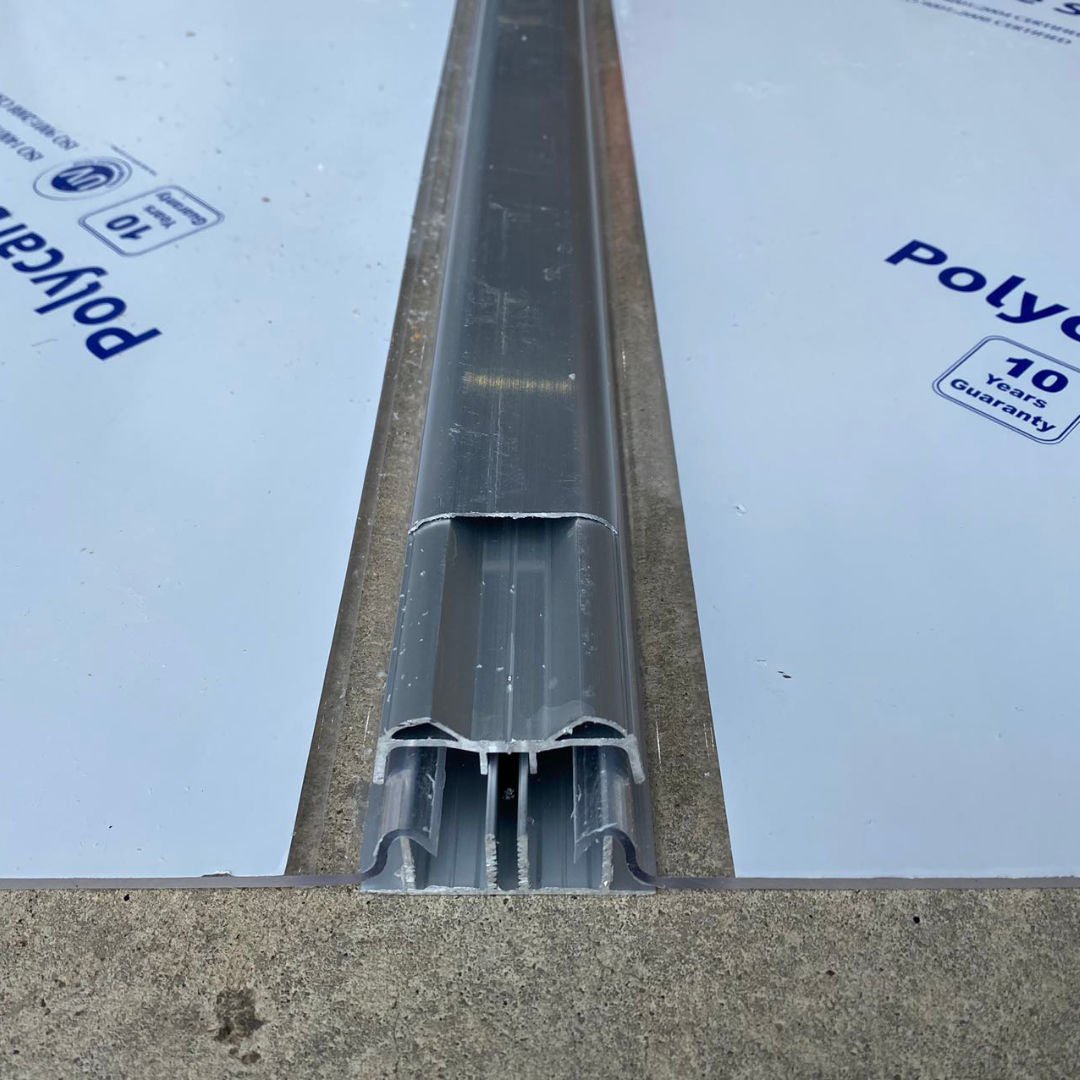 Solid Polycarbonate Locking Roofing System
Pickup available at Unit 4, 8 Enterprise Drive,
Usually ready in 1 hour
Solid Polycarbonate Locking Roofing System
600mm / 3.6 / Clear
Unit 4, 8 Enterprise Drive,
Pickup available, usually ready in 1 hour
8 Enterprise Drive
Unit 4
Rowville VIC 3178
Australia
0452 396 680
Solid Polycarbonate Locking Roofing System
The Excelite innovative Solid Polycarbonate Locking Roofing System using W600mm and W800mm flat Solid polycarbonate standing edge sheeting, Cliplock with aluminum glazing bars. This roofing system is an ideal choice for those seeking the appearance of a glass pergola.
This Architectural Roofing System not only provides a transparent glass-like look but also offers several key advantages
Virtually Unbreakable, 250 times stronger than glass
100% Water tight
Block 99% Harmful UV
More Rigid than same thickness polycarbonate flat sheet
Easy to Install, DIY Friendly
Excelite Polycarbonate Locking System features standing seam edges that sit atop an aluminum joiner, creating an optimal blend of transparency and strength. This system is an excellent choice for architectural daylight applications, and allowing you to enjoy outdoor living without concerns about rain and hail.
Importantly, Excelite Polycarbonate Locking roofing panels are completely leakproof and offer exceptional impact resistance.
The roof screws secure the aluminium joiner to your rafters without penetrating the plastic roof panels. This design allows for ample expansion space for the polycarbonate roof while maintaining the roof's integrity.
Product Specification
Width: W600 and W800mm
Thickness: Flat Solid 4mm Polycarbonate Sheet
Length: 1.8m-5.8m Or Cut to your length
Color: Clear And Tinted





Features and Benefits

The Excelite Solid Polycarbonate Locking System offers several advantages over traditional roofing materials:
Watertight Design: The unique seamless 'clamp joining system' and aluminium profile set guarantee a watertight rooftop, effectively protecting the covered area from water infiltration and leakage during adverse weather conditions.
Enhanced Strength and Security: The combination of a secure aluminium locking system and high-impact solid polycarbonate sheets ensures a durable solution that withstands extreme weather, forced entry, and high winds. Polycarbonate sheets offer up to 250 times the strength of glass, making them virtually unbreakable.
Transparency and UV Protection: The clear polycarbonate roofing system offers excellent light transparency while providing built-in UV protection. This prevents harmful ultraviolet rays from penetrating the covered area and protects the sheets from discoloration and degradation over time.
Lightweight and Durable: Solid polycarbonate sheets are more lightweight than glass and other roofing materials, making them easier to handle, transport, and install while still providing exceptional durability and longevity.
Easy Installation: The specially designed locking system allows for quick and straightforward installation with minimal tools required, ensuring a professional and secure fit perfect for various applications.
Applications:
The Solid Polycarbonate Locking System is suitable for a variety of residential, commercial, and industrial applications:
Patio Covers: Transform your patio into a protected outdoor living space, safe from harmful UV rays and harsh weather conditions.
Pergolas: Create a secure and stylish pergola cover that withstands high winds and weather, providing a comfortable and well-lit outdoor area for relaxation.
Canopies: The locking system and solid polycarbonate sheets offer a durable and secure solution for creating canopies over entrances, walkways, or seating areas.
Carports: Protect your vehicles from the elements with a high-impact-resistant and reliable polycarbonate carport cover.
Storefront Awnings: Enhance the appearance and security of your commercial storefront with a durable, weather-resistant polycarbonate awning.
How The U-Joiner Works
The polycarbonate sheet features a curved edge that snugly fits within the aluminium joiner. This joiner clamps onto the sheet's edge, ensuring a tight connection. Screws secure the system without piercing the panels, and a cap-plug neatly covers each screw head. The design enables the joiner to be discreetly tucked away above the rafter, giving a seamless glass-look appearance from below.
Advantages of U-Joiner
Appearance: Offers a smooth, glass-like look from below as the joiner can be hidden above the rafter.
Strength & Durability: Enhanced rigidity and strength from the clamp joining system.
Installation Flexibility: Fixed rafter distances of 600mm and 800mm for optimal performance.
Product Specifications
Rafter Distance: Options of 600mm or 800mm.
Material:
Panel Width: 600mm or 800mm, consistent with rafter distance.
Joining System:
Installation Components:
Appearance:
UV Protection: Built-in protection against harmful ultraviolet rays.
Technical Data:
Thermal Insulation: Depending on the type of sheet, the K-value ranges from 1.54 to 3.56 W/m²K.
Bending Radius: Minimum bending radius starts from 1750mm for the thinnest sheet up to 5250mm for the thickest.
Soundproof Index: Ranges from 14 dB for twin-wall up to 19 dB for honeycomb and X-structure sheets.
Load Capability: Depending on thickness and structure, the sheets can handle loads from 2.1 kN/m² to 4.7 kN/m² for short-term loads and 0.6 kN/m² to 2.1 kN/m² for continuous loads.
Physical Properties:
Light Transmission: Varies between 25%-82% based on the type of sheet.
Thermal Conductivity: Ranges from 2.3-3.9 W/m·K.
Coefficient of Linear Expansion: 0.065 mm/m°C.
Specific Heat: Between 1.17-1.3 J/g·K.
Flame Resistance: Resistant to fire and does not promote flame spread.
High Clarity: Ensures clear visibility and maximum light transmission.
Lightweight: Easier to handle and install compared to traditional materials.
Types of Sheets:
Twin-wall Polycarbonate Sheet: A dual-layered sheet that offers moderate insulation and strength, suitable for basic applications.
Triple-wall Polycarbonate Sheet: Features three layers for improved insulation and rigidity, ideal for medium-duty applications.
Four-wall Polycarbonate Sheet: Designed with four layers, providing superior insulation and strength for demanding scenarios.
Honeycomb Polycarbonate Sheet: Has a unique honeycomb structure that offers excellent insulation and light diffusion.
X-structure Polycarbonate Sheet: Features a cross-structured design, ensuring maximum rigidity and insulation for high-end applications.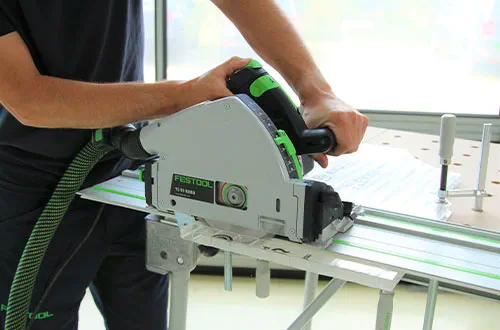 Cut To Size
Whether you're working on a small DIY project or a commercial project, we're proud to offer cut-to-size sheets here in the heart of Melbourne.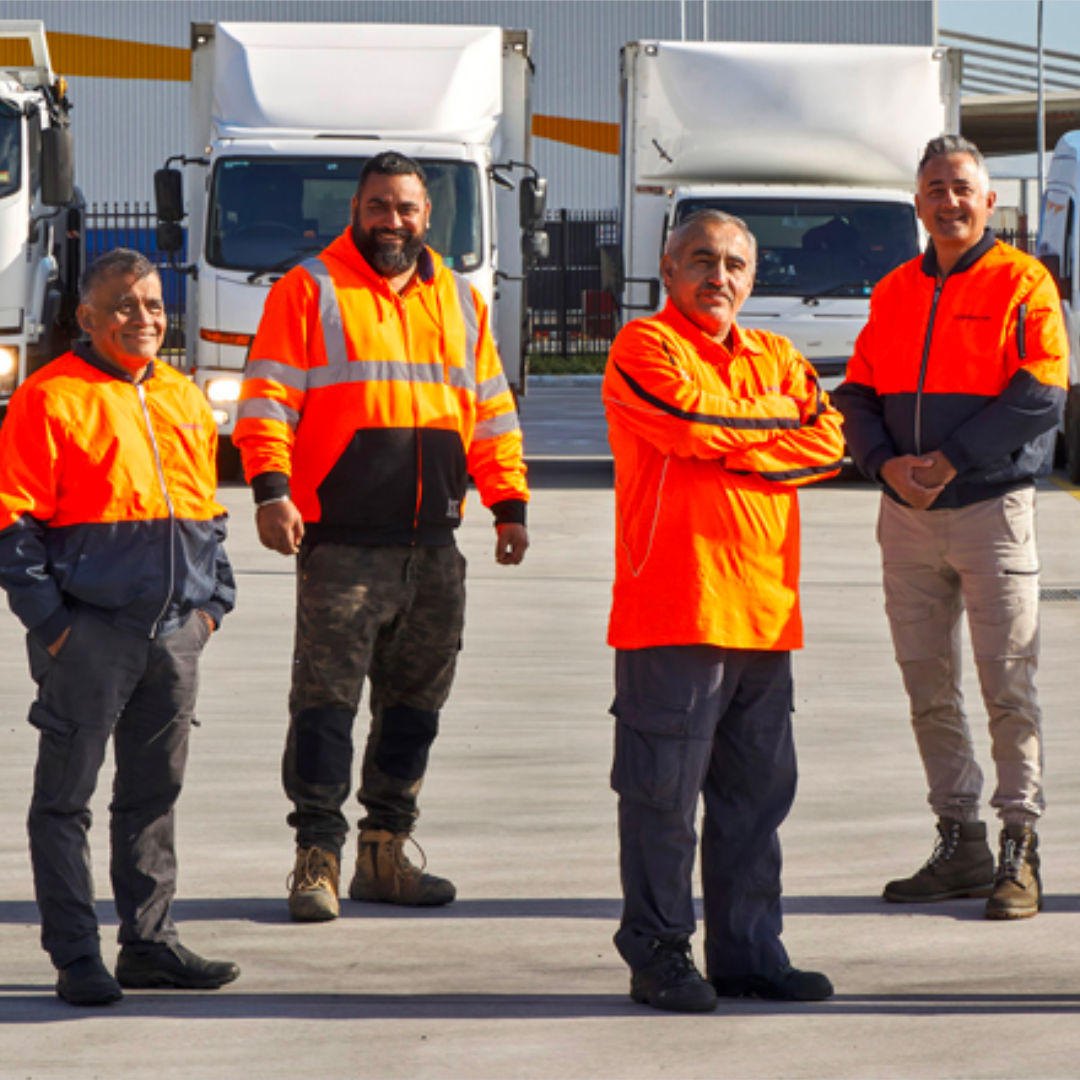 Same Day Delivery
For orders placed before 2pm, we're proud to offer same day delivery within Melbourne Metro.
Frequently Asked Questions
Shipping & Returns
We offer same-day shipping for Melbourne metro areas and 1-4 business days delivery for everywhere else in Australia.
The polycarbonate sheets are carefully packaged to ensure they arrive in perfect condition. Sheets are protected with wrapping or other cushioning materials to minimise any damage during transit.
The polycarbonate sheets are carefully packaged to ensure they arrive in perfect condition. Sheets are protected with wrapping or other cushioning materials to minimise any damage during transit.
General
Polycarbonate is extremely strong and nearly unbreakable, making it suitable for applications like police shields, awnings, sunroom roofing, and greenhouses. These panels are resistant to various weather conditions and maintain their appearance for many years.
Polycarbonate sheets can be easily cut using a circular saw or a jigsaw. Circular saws are best for cutting larger lengths, while jigsaws require careful handling to ensure proper cuts.
Although polycarbonate sheets may change colour over time due to sun exposure, Excelite's UV-coated polycarbonate sheets maintain their colour longer.
Polycarbonate sheets require minimal maintenance. Gentle cleaning with warm soapy water and a soft cloth is typically sufficient. Avoid abrasive cleaners, brushes, or pressure washing, as these may damage the UV-resistant coating or scratch the sheets
Roofing
The best sheeting for a roof depends on the specific requirements, with multi-wall, solid, and corrugated polycarbonate sheets each offering unique benefits.
Although polycarbonate sheets are tough and durable, they should not be walked on. They can withstand many impacts, but might dent or scratch under the weight of a person. Additionally, their surfaces are slippery due to the UV-resistant film, posing a risk of slipping and injury.
Corrugated and twin wall polycarbonate sheets are typically the least expensive varieties. Despite the lower price, these sheets can endure Australia's harsh weather conditions, but selecting the wrong type may lead to more expenses in the long term.
Pergolas & Greenhouses
Excelite's popular glass-look polycarbonate flat roofing is an excellent choice for a pergola roof. It is easy to install, low-maintenance, and watertight, making it a great alternative to glass.
or a pergola enclosure with a glass-like appearance, use a 4-6mm thick solid polycarbonate sheet. Alternatively, use twin-wall polycarbonate panels for a more affordable, yet less transparent option.
Twin wall polycarbonate is ideal for greenhouse construction due to its insulating properties and minimal framing requirements. Excelite Softlite polycarbonate sheets are another excellent option for greenhouse materials, especially for tunnel greenhouses.